The British Imperial Units of Measure was the conventional system of weights and measures in the United Kingdom from 1824 until 1965, when the metric system was adopted. Though metric units are primarily used in most areas of industry and commerce, the imperial system is still used on roadway speed limits, some beverage containers and pipe fittings. Perhaps a contradiction in terms, but your Aston Martin DB9 is just under 5 metres long, though it's allowed to travel 70 miles per hour on the motorway.

Although the imperial thread sizes of BSP hydraulic fittings are still the most popular in the UK, the preponderance of metric fittings in Europe as made its mark in the UK's industrial sector.
Metric DIN versus imperial BSP
Metric
DIN
24° Bite Type fittings are the most common hydraulic fittings used throughout Europe and have a significant prevalence in the UK. Though the most popular style of hydraulic fitting in the UK is BSP with their 55° thread angle and imperial thread sizes and dimensions, they are sometimes confused with being a metric style. Instead, metric fittings have straight threads and are designated by their major diameter and thread pitch, such as M16 x 1.5, representing 16 mm in diameter and 1.5 mm distance between threads.
As with imperial thread fittings, metric fittings connect hydraulic pipes, hoses and tubes to valves, pumps and other system components. Due to metric fittings' popularity in Europe and throughout the world, it's easy to find compatible components in different countries. Metric fittings are commonly found in equipment made in mainland Europe, in countries such as Germany, Italy, Sweden and France- and to some degree in the UK. 
While the metric DIN 24° male and female fittings have straight threads, the female connectors have a sealing surface where the seal is made with the cone on the male fitting. They are available as DIN 2353 L for light pressure applications and DIN 2353 S for high pressure systems. The light and high-pressure styles have their own thread dimensions and tube sizes as shown below.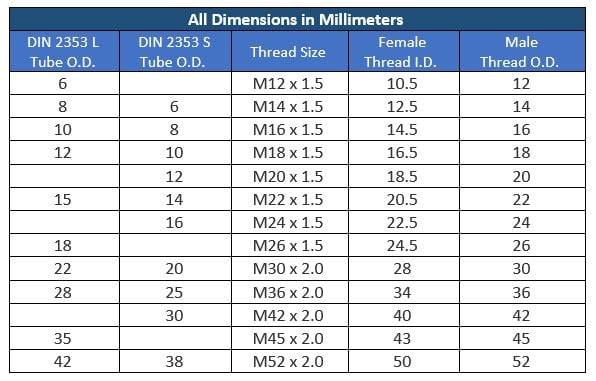 There are many different metric hydraulic fittings, including ISO 6149-1, DIN 3852-1/ISO 9974-1 port style and BS EN ISO 12151-2. However, as mentioned above, the most popular in the UK and across the continent is the DIN 2353 24°/ISO 8434-1 cone flareless bite type fitting, incorporating straight metric threads. Due to its flareless bite style connection, O-rings are not required for a leak tight seal.

In the same way BSPP can seal using the BS 5200 60° cone-seat, metric parallel threads will seal on the 24° tube seat. Though some metrics have external gaskets that work the same as BSPP bonded seals, O-ring seals and combination washer and O-ring. The ISO 6149 metric tube fitting specifies the O-ring style and seals in the same way as the SAE J1926-1 O-ring Boss.
Mated sealing surfaces in metric 
O-ring
fittings provide superior reliability, reduced potential of over torquing and can withstand higher vibration and shock. Even though the metal-to-metal sealing of DIN fittings does not provide the same level of leak resistance in high-vibration systems, they still offer significant advantages in many applications, particularly in high pressure systems. As a result, many European OEMs currently use or are converting to DIN style fittings.
OEMs and metric hydraulic fittings
While the UK's JCB, one of the world's leading manufacturers of construction equipment, uses BSP fittings, their European competitors such as Volvo and Liebherr use metric DIN fittings. Comparatively, the world's second largest machine tool producer, TRUMPF GmbH, uses metric hydraulic fittings. These companies, along with Sweden's Atlas Copco, Italy's IMA Group and most other European manufacturers of machinery, earth moving equipment, forging presses, conveyers and more have long ago adopted the simplicity of metric thread styles.
Sources Include: