When a hydraulic hose fails, it can burst and produce a ripple effect that can cause costly equipment damage and downtime; a pinhole leak can spray hot hydraulic fluid causing personal injury.
Hydraulic hose assemblies typically operate in uncontrolled and unprotected environments, where tough and difficult conditions require safeguards against hose failure. Hoses are often exposed to vibration and continuous movement on industrial or mobile equipment. This is due to rubbing against metal parts, causing wear and abrasion. There can also be flying debris, weld spatter or hot metal chips that can cut or burn into the hose. Any of these situations can wear away at hose covers, exposing the wire reinforcement to moisture and dirt that can ultimately lead to catastrophic failure.
There are several ways to protect your hydraulic hoses for specific applications, such as: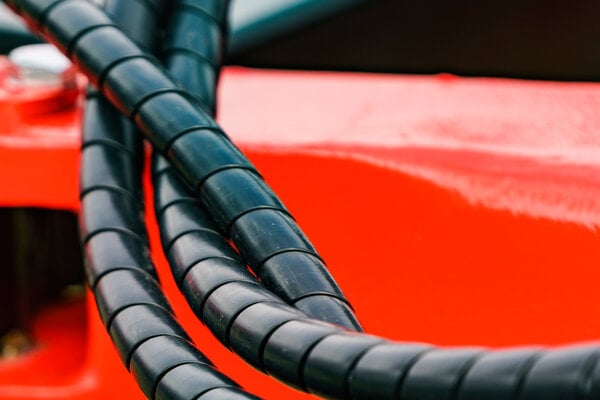 1. Sleeve Protection to guard against hose burst or pinhole leaks. Hydraulic hose sleeves made from specifically engineered fabric offer ideal UV and abrasion protection. This keeps fluids that are under pressure from escaping if the hose fails. They are made of proprietary engineered fabric and easily slide over a hose to provide excellent protection. Additionally, they meet line of sight operator specification and are rated for MSHA #IC-234/1 flame resistance.

2. Mil-Spec 1050 Ballistic Nylon bundling and abrasion protection wraps are similar to protective sleeves, but literally wrap around a hose (or hose assembly) that is currently in service. Their abrasion-resistant fabric has a 1.7 mil urethane coating, includes Velcro-type closures and comes flat in different widths to cover internal diameters ranging from 25.3 to 406.4 mm. These bundling wraps can be cut to length, allowing them to fasten around the hose or bundle multiple hoses. If an individual hose fails, simply open the wrap's closure, remove and replace the faulty hose, then replace the wrap.
These wraps can also be used for cylinder rod protection, as the cost of damaged cylinders can be as high as ten times the cost of providing adequate prevention. The wrap and its installation are easier to use and far less expensive than the cost of custom bellows.
3. Heavy Duty Plastic Spiral Guards are easy to install on mounted or loose hose and cables. These spiral plastic guards typically suit IDs of 7.1 to 150 mm, wrapping around the hose and secured without disassembly of the hose connection. Their heavy-duty polyethylene material will not damage the hose, due to its flat profile with rounded edges. These high-density UV resistant plastic spiral guards are lightweight and economical, serving as an ideal product for protecting hoses from impact, abrasion, cuts and compressing loads. As with many other wraps, they are ideal for bundling several hose lines.
Spiral guards also come in Light Duty, made of virgin, low density polyethylene. They are available in 11 to 24.13 mm ID, designed to wrap around wire bundles to protect the conductors.
4. Spring Guards are wound steel springs that add reinforcement to support hydraulic hoses, preventing damage in heavy-duty applications. They are available in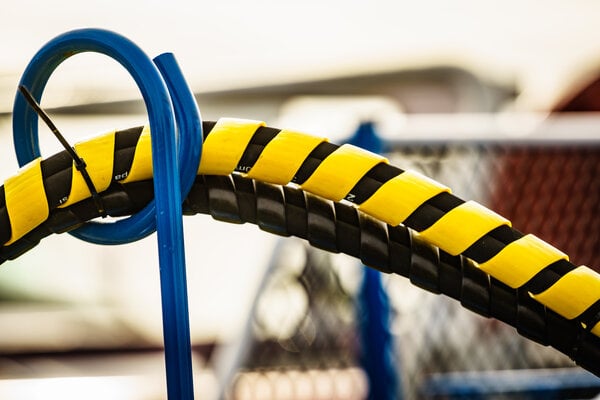 a wide range of ID (typically 13 to 58 mm) and are zinc-plated for corrosion resistance against atmosphere and certain fluids. Their ease of installation by sliding the cut-to-length spring coil makes them user friendly in nearly any application.
Spring guards essentially serve as a flexible wire fence around hydraulic hose that deflects even the most intense heavy impact, abrasion, kinking, accidental compression, deep gouges and cuts. They are widely used on hoses in construction and agricultural equipment, as well as some industrial applications, such as robots that lift heavy objects.
5. Fire Sleeves provide heat and flame-resistant hose protection, rated as high as 260°C under continuous exposure; up to 1093°C for 15 to 20 minutes; and 1650°C for intervals of 15 to 30 seconds. These flexible and durable insulating covers simply slide over the hydraulic hose, securely clamping to the fittings and are available in inside diameters from 9.6 to 89mm.
Fire sleeves protect hydraulic hoses and pneumatic tubing from hot hydraulic fluids, fuels and lubricating oils. Made from a flexible substrate of knitted construction fiberglass yarns with a high-grade silicone rubber, they insulate hose, piping or tubing from energy loss and protect personnel from dangerous burns. These sleeves can be used to bundle hoses, cables or wires that may be exposed to excessive heat.
Conclusion
The need to protect hydraulic hose and wire cables often goes well beyond the original OEM covers. Considering the hazardous applications and environment, OEM design and field service maintenance engineers are cognizant of the need to protect workers and equipment while maintaining uptime.
There are many other types of hose and cable protection products beyond what's outlined above, including:
Vinyl Wraps available in different colors for ease of identification, providing a wide range of chemical resistance.
Cinch Straps, Hanging Straps and Safety Straps with heavy-duty nickel-plated buckles, used instead of cable ties that can cut into hoses. These straps allow natural hose movement and expansion without damaging the bundle, providing easy hanging of single or bundled hoses, and strapping anything from hose and pipe assemblies to hoses and cables on portable equipment.
Drip Proof Plugs for plugging hose fitting ends are available in sizes from 6.35 through 50.8 mm. These hose plugs are made of a high-quality, oil resistant rubber and incorporate a hex head design for a better grip.
Other protection products include:
Sources Include: