As
an island nation, the
British
Royal
Navy
dominated the seas from the 18th to the early 20th century.
During
this
period,
Britain
controlled much of the world's trade and possessed the ability to easily move supplies and troops
in
wartime.
The
UK's modern marine industry began to take shape
as
advancements
in
the
shipbuilding sector took center stage
in
the 19th century, with hydraulic technology playing a pivotal role
in
both building and operating ships, covering numerous applications that drive the marine industry forward.
Today,
the UK has more than
120
commercial ports administered by five major organizations and hundreds of shipbuilding companies led by companies such
as
BAE
Systems
plc and
Babcock
International
Group
plc.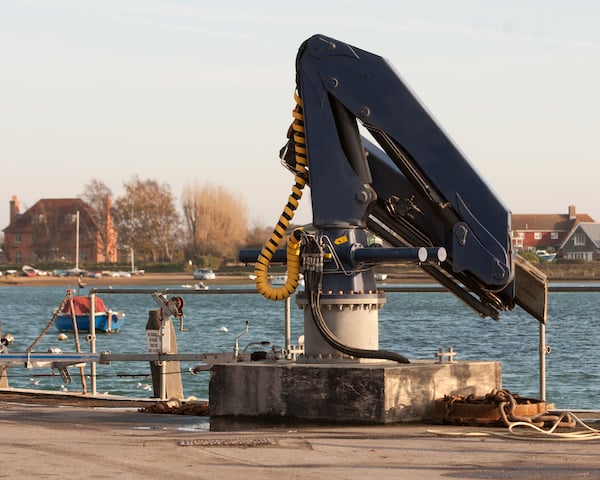 Hydraulics
in
shipbuilding
Modern
UK shipbuilding relies heavily on hydraulic technology, which enables engineers and naval architects to create more effective and flexible commercial cargo ships, warships, other seagoing vessels and offshore marine structures.
Hydraulic
systems use fluid pressure and force to carry out a variety of operations, including steering, stabilization, operating cranes, opening and closing cargo doors and pulling winches.
In
several respects,
this
technology has transformed ship construction and marine operations.
Applications
of hydraulic machinery
in
shipbuilding
A ship
's engine room relies heavily on hydraulics to operate automatic control systems. They regulate valve positions to power the boat, along with controlling the pneumatic pressure in the engine room.
Lifting heavy loads
In shipyards, heavy objects need to be lifted and positioned precisely. Examples include ship parts, engines and cargo. Hydraulic cranes and hoists provide the strength and accuracy required to do these jobs safely and effectively. They enable shipbuilders to create warships and commercial vessels in assembling these enormous structures. Once commissioned these same cranes and hoists use hydraulic power to move material around a shipyard, plus load and unload cargo.
Stabilizing
Waves and currents constantly move large seagoing vessels. Hydraulic stabilizers reduce rolling and pitching, improving onboard safety and comfort for passengers, crew and cargo. Hydraulic stabilizing devices help decrease structural wear and enhance fuel economy by reversing the ship's natural motions.
Hydraulic stabilizing technology secures the ship's bed plate, cylinder heads and entablature, the housing which holds the cylinder liner. And as the word implies, these stabilizers effectively protect the ship from rolling.
Steering systems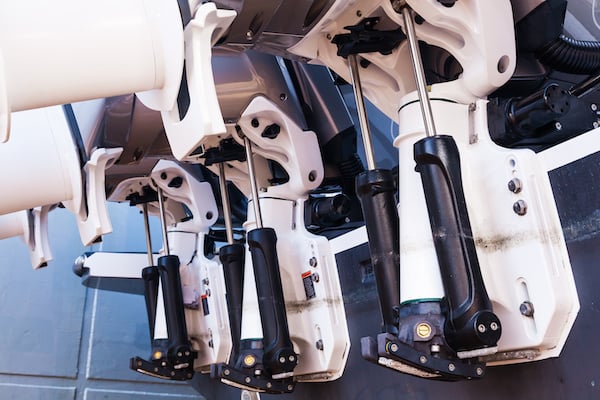 Hydraulic systems are the foundation of ship steering mechanisms. Thanks to the hydraulic rudders and steering gears, the vessel may stay upright even in bad weather. For ships to operate safely, especially in crowded ports or waterways, they must traverse easily.
Hydraulic steering systems incorporate a lightweight hydraulic hose to operate the steering mechanism which is connected to a hydraulic pump that sends fluid from a reservoir to a hydraulic ram or cylinder. The hydraulic pressure turns the steering mechanism to provide smooth turning of large vessels, similar to the feel of power steering in a car.
Cargo handling
For the UK shipping business, effectively loading and unloading goods is essential. These procedures are streamlined by hydraulic equipment like cargo cranes and hatch covers, which shorten port turnaround times and guarantee that cargo is moved quickly and safely.
UK merchant ships carry nearly 60 million gross tonnages and over 75 million deadweight tonnage of cargo annually. A major portion of this are merchant navies of British Overseas Territories and trade with former colonies.
Marine hydraulic cranes and winches provide the heavy lifting of cargo in loading and unloading merchant ships. Hydraulic cranes and winches are instrumental in lifting and moving heavy loads on and off ships, and hydraulic hatches and doors open and close cargo holds. In addition, hydraulic systems are instrumental in controlling fluid for piping oil and gas from tankers into ships.
How the UK marine industry benefits from hydraulic technology
Increased efficiency
Hydraulic systems are efficient for a variety of marine applications because they have high power-to-weight ratios and reliable controls. Hydraulic technology improves overall performance while consuming less energy, from small fishing boats to huge cargo ships.
Enhanced safety
In the marine business, safety is a high priority. Hydraulic equipment is made to adhere to strict safety regulations, protecting the environment and the crew. Precision control and fail-safe measures help eliminate mishaps and possible disasters.
Potential problems may be identified early with intelligent sensors and real-time monitoring, enabling proactive maintenance and averting failures during crucial operations. Additionally, using redundant systems and backup mechanisms guarantees that the hydraulic equipment continues to operate safely and effectively, even in the unlikely case of failure.
Flexibility and adaptability
Hydraulic systems may be modified to meet the unique needs of various ship types. Due to their adaptability, shipbuilders may create vessels for a variety of uses, including shipping cargo, performing research or providing assistance in offshore operations.
Conclusion
Hydraulic technology provides innovation and development in the UK marine industry with constantly evolving shipbuilding processes. The story of the nation's shipbuilding ability has been significantly influenced by hydraulic technology, from the first steamships to the most advanced ships of the 21st century. Without a doubt future developments in hydraulic systems will push the limits of what is achievable at sea, transforming shipbuilding and continuing the UK's position as a worldwide marine leader.
Sources include: